Vermont Morgan Heritage Days
Friday, July 1st / Saturday, July 2nd / Sunday, July 3rd, 2016
Tunbridge Fairgrounds, Tunbridge, VT

Justin Morgan Performance Competition
Sunday, July 3rd, 2016, noon. 
The Justin Morgan Performance Competition is an overall test of the willingness, versatility and style of the Morgan horse. The progenitor of the breed, Justin Morgan's horse, Figure, exemplified this ideal of versatility. He was said to excel at all the activities that constitute this competition. Each entrant must perform in all four sections of the competition: trotting race in harness, running race under saddle, pleasure class under saddle, and the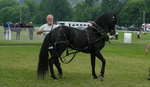 stone-boat pull.
An individual horse may have a different rider, driver and/or handler for each section. Each section of the competition will be placed, and will count 25% toward the final placing. Horses must be four years of age or older. This competition is open to amateurs and professionals.
Please note the times for this class. Mandatory race meeting is at 9:00 a.m.
This competition will begin at 12 noon while all other competition is on lunch break. Each division will be run consecutively in the following order:
Half-mile harness trot
Half-mile gallop under saddle
Pleasure saddle competition
Stone-boat pull
The Justin Morgan Performance Competition Awards will take place in the main ring after the stone-boat pull concludes.
Click to Replace